Yesterday, February 26, 2013, Mike was busy enticing college students to join the skilled trades at the OILLMP Construction Career Fair & Employer Learning Event in Ottawa, Ontario, Canada.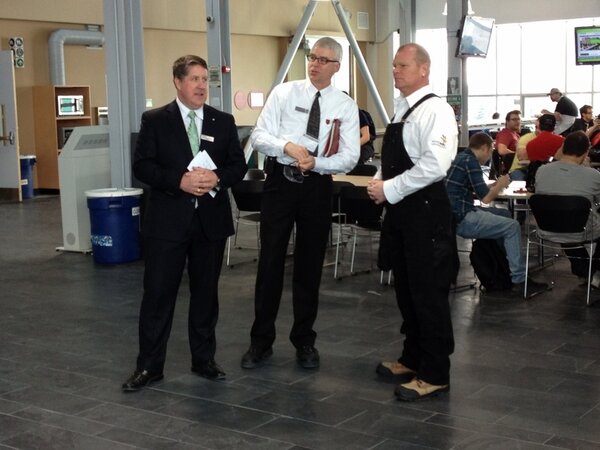 Mike touring the ACCE building as part of the OILLMP Career Fair
Mike attending the construction fair, courtesy of Ottawa Public Health

From the
OILLMP website
:
February 26, 2013 - Free oillmp construction career fair & employer learning event (with special guest mike holmes)
On February 26th, 2013, OILLMP, in partnership with Ottawa Construction Association, City of Ottawa, Youth Services Bureau and the Greater Ottawa Homebuilders Association, is holding a Construction Career Fair & Employer Learning Event at the Algonquin Centre for Construction Excellence (ACCE).
The day will consist of a morning event geared towards employers in the construction industry while the afternoon, focused on job seekers and students, is highlighted by keynote speaker Mike Holmes, host of Holmes Makes It Right on HGTV (sponsored by OILLMP, Algonquin College and La Cité collégiale).
Mayor Jim Watson will open the morning's Employer Learning Event and workplace expert Dr. Linda Duxbury will give a keynote address, followed by a panel discussion on Best Practices in Building Your Workforce that features construction industry leaders. Jeff Westeinde, Chairman of Windmill Development Group, will serve as emcee.
The afternoon's Construction Career Fair, emceed by Councillor Mathieu Fleury, features a Construction Marketplace where job seekers and students can visit employers and gather information on educational and career options, as well employment resources. Industry leaders will present on Ottawa construction careers and the Light Rail Transit initiative throughout the afternoon.
Both sessions are free for participants. Employers are also invited to register for a free booth at the Career Fair. Please click on the pdf files on this page to find out more!
From the Algonquin Facebook page on Monday:
Mike Holmes is coming to AC tomorrow as part of OILLMP's Construction Event!

If you're an AC Grad, student or job seeker, join OILLMP for this career fair from 12:00-4:00pm. Employers are welcome to attend the morning session, too. Details: http://ow.ly/i21he