Once in a while, while combing the internet for interesting stuff to post I run across something from yesteryear. 2007 wasn't that long ago, was it??? I found this 2007 news article about a homeowner that even Mike Holmes wouldn't touch. That's right, Joe and Joanne West had a home that was even too much for even Mike, and if Mike Holmes says your home is too expensive to fix, then you know your house is reaaaaaally jacked up. I wanted to dig a little further into this story and found an article written a few weeks later (non-Mike related) that gives a little more information about just how bad the West's home actually was.
You can read it here if you like.
It seems that no building permits were issued by the builder until AFTER the house was built. No building permits means no building inspections, and it's obvious that some very serious corners were cut, to say the least. So what about their new home warranty? Yeah, that's a whole different ball of wax. According to the article, the warranty company decided that the best solution given the "deteriorated" relationship between the homeowner and the builder (deteriorated? more like nuked back to the stone age) was to pay out the damages monetarily. In other words, the Wests would be compensated for the damages to their home with money, so they could go get someone else other than the builder to fix the problems. Sounds reasonable, right? Well unfortunately, at the time the article was written, the West family had yet to see a single dollar from Tarion, their home warranty company. This prompted the Wests to file a lawsuit against the City of Hamilton for $1.5 million. But wait... it gets fuzzier. According to
another source
, it seems that because the builder didn't get permits, the city never issued stop work orders on construction, and because of this the new home warranty will not cover some of the items! What a quagmire! Definitely the plot of a construction soap opera nightmare, if there ever was one. Not sure how it ended up for the West family, but by the looks of the articles about their saga, I'm going to take a guess that it didn't turn out well.
From
TheSpec.com
:
Homeowners left 'high and dry,' says star of Holmes on Homes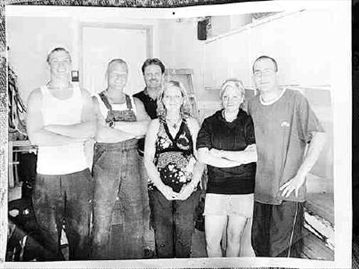 hs1606705 2007-04-07-1
Joe West and his wife are suing the city and builder. From left, are Mike Holmes Jr., Mike Holmes Sr., Joe West, Joanne West, Lindsey West, and Luke Pietruszka, Lindsey's boyfriend.
Hamilton Spectator
(Apr 7, 2007)
Joe and Joanne West's house at 55 Lanza Court was too much for Mike Holmes.
Holmes, star of HGTV's popular Holmes on Homes, scouted the Wests' house last September as a possible candidate for his renovation show. He decided to take a pass, in part because the repairs needed would be too extensive.
"I remember it very well," said Holmes. "It was very sad. There were so many things wrong with that house. I was not impressed."
The Holmes on Homes show highlights real homeowners and their construction horror stories. Holmes uses his contractor's expertise to fix the mistakes of what he calls "a lot of sloppy, lazy and dangerous work" that he sees in the construction business.
Holmes said he was tipped off about the Wests' home by an e-mail he received. The Wests aren't sure who sent it, other than to say they weren't responsible and were surprised when they were contacted by the show.
"He knocked on our door and wanted to review the home," said Joe West. "He had an issue with the dollar amount that would have to go into the house to repair it.
"He said that we have some major issues here," West added. "He wouldn't touch it."
What really angered Holmes, however, was the fact that there were still a lot of unresolved issues relating to permits and jurisdictional wrangling that were still outstanding, even though the Wests had already been living in the house for more than a year.
"I was really, really bothered by it," said Holmes. "Everything seemed to have been abandoned - the permit process, government officials, you name it - they sort of left the homeowners high and dry.
"If I remember, there wasn't even an occupancy permit on the house and you're not supposed to move in without it."
Holmes even approached CBC's Marketplace show to see if the producers would be interested in taking a look at the Wests' situation.
"As far as I was concerned, this had to be publicized," Holmes said.
"I don't know who's at fault or who's going to stand up to it, but somebody's got to step forward and say 'Hey, there's a problem here, let's address it.'
"Does it have to be me? Do I have to come in and practically take the house down and do it again?"